Living in Community
Deep Learning through Community
Living in community is an integral part of the Apprenticeship Program. Each cohort of 20 apprentices live, eat, work, and learn together on-site, co-creating an intentional community of practice. Living in community with each other and the land supports apprentices in developing deep, holistic practices of self-development and reflection.
Apprentices engage in workshops that facilitate community- and alliance-building, as well as strategic engagement with their personal identities, strengths, and privileges. Through this experience of collaborating, co-creating, and connecting, apprentices gain insights and skills that translate directly to the collective, community-based work of food system transformation. 
Why live in community?
Build strong and authentic relationships with peers
Deepen learning through collective connection with the land and its rhythms
Amplify your own development through connection with people who share your passion for farming and gardening
Develop important skills and mindsets including listening, empathy, compassion, and shared responsibility
Residential life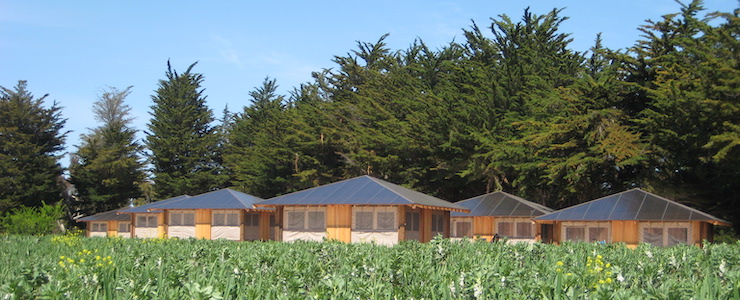 Apprentices are encouraged to live at the Farm in one of nine four-room tent cabins. This on-site housing is included in the program fees. The cohort shares the Farm Center kitchen and dining room, library, bathrooms, and showers. Weekday group meals are provided through the program.
The community that forms each year shapes a large part of people's experience. For this reason, apprentices should understand that a fair amount of their time and energy will be invested into community life. All apprentices take part in cooking, cleaning, and other domestic responsibilities. Outside of these basic community responsibilities and community meetings, apprentices can choose whether or not they wish to participate in social aspects of the community.
Please note that smoking is prohibited on campus, including on the Farm and in/around the tent cabins. Responsible alcohol consumption is permitted for those over 21, only in the Farm Center and tent cabins. Apprentices must agree to abide by UCSC campus rules and the student code of conduct prior to joining the program.