Gaining Results through Evaluation Work (GREW): Evaluation Support for Beginning Farmer and Rancher Programs
This project will support the development of strong, effective, and long-lasting farmer and rancher training programs to ensure that beginning farmers and ranchers (BFRs) can enter the field and establish successful farming businesses.
Funded in 2018 with a grant from the US Department of Agriculture's Beginning Farmer and Rancher Development Program (BFRDP) and led by the Center for Agroecology, the 3-year educational enhancement team (EET) effort will equip BFR organizations nationally with tools and skills to effectively conduct evaluations that clearly document program impacts, improve programming, and enable program staff to identify and respond to farmers' needs. Such documentation and program improvements will increase participants' success and provide the accountability needed for the long-term viability of BFR programs.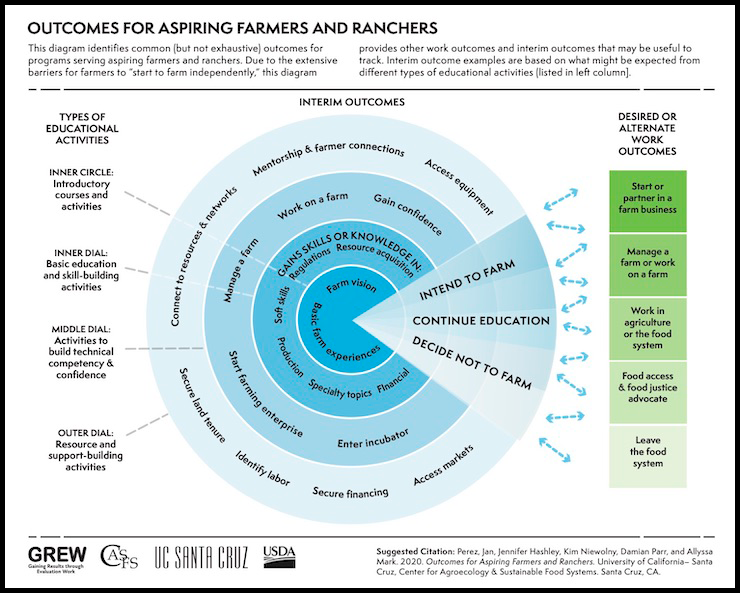 ---
Project Activities
1. Provide evaluation tools – these tools will help beginning farmer and rancher BFR organizations identify key outcomes and measures that can be used to make creating an evaluation easier.
2. Provide evaluation training – webinars will share technical information for conducting evaluations. Currently planned topics include
3. Provide professional development – an online learning community will provide the means for BFR training organization staff to learn from each other, and from project evaluators.
Expected Outcomes
BFR organization staff should find conducting evaluations more accessible and efficient.
BFR organizations' evaluation will become more effective, providing better information to stakeholders.
Better evaluation tools and practices will also improve BFR education and outreach activities, to help farmrers and ranchers learn more and become more successful.
Led by The Center for Agroecology, this evaluation partners with Virginia Tech (Virginia Beginning Farmer and Rancher Coalition), New Entry Sustainable Farming Project, and Tufts University. Project oversight and guidance is provided by Agricultural Land Based Learning Association (ALBA), Farm Credit Council, Land for Good, Land Stewardship Project, University of Vermont Extension and Mavrolas & Associates.
Read a press release about the project
See a poster about the project from the 2018 BFRDP Directors' Meeting
See the 2-page Outcome Report for the GREW Project 
---



Project Advisors


Project Funding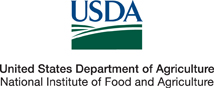 See
Also