Center Publications
The Center produces a variety of publications for researchers, farmers, students, educators, and home gardeners, many of which are available for free download. 
Instructional materials include the popular Teaching Organic Farming and Gardening: Resources for Instructors, and Teaching Direct Marketing & Small Farm Viability: Resources for Instructors, along with the Organic Specialty Crop Grower Guide series. 
Other publications include the Research Briefs series, as well as For the Gardener "tip sheets" for organic gardeners, and the News & Notes of the UCSC Farm & Garden quarterly newsletter.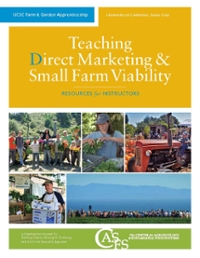 Center members also publish in a variety of journals and other publications. Please see the Center Research Bibliography for details on research publications by Center members from 1994 to the present.
Center members took part in a UCSC Regional History Project effort to document the impact of Central Coast farmers, educators, researchers, and others on the development of sustainable agriculture. Read about Cultivating a Movement: An Oral History Series on Sustainable Agriculture and Organic Farming on California's Central Coast on the University Library's web site.
For more information about publications, contact casfs@ucsc.edu or call 831.459-3240.