Current Research
Bio-intensive No-till Research for Climate-Smart Mini-Farms & Urban Gardens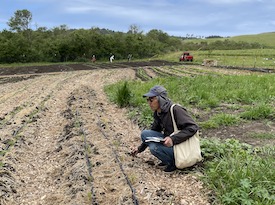 A grant of $100,000 from the UC Santa Cruz Center for Coastal Climate Resilience (CCCR) Pilot Funding Initiative will support a Center for Agroecology research trial on biointensive no-till practices for micro farms and urban gardens. The project, led by Joji Muramoto, will bring together a team of researchers and experienced growers to explore the impacts of no-till organic growing on hand-worked plots ranging from less than an acre to five acres). The pilot will initiate long-term research plots at the UCSC Farm and Chadwick Garden to support investigations by partner organizations on no-till micro farms in the region.
Center for Agroecology/UCSC participants: Joji Muramoto and undergraduate students
Funding: UC Santa Cruz Center for Coastal Climate Resilience
---
Organic Soil Treatment Methods for Nematode Control in California Carrots
A USDA-contracted research project with $153,423 in funding will develop and implement n
on-fumigant approachesfor management of nematodes in California carrot production. Collaborative research of Joji Muramoto of the Center and UC Agriculture and Natural Resources (UCANR), nematologists of UC Riverside, and plant pathologists of the USDA-Agriculture Research Service, Florida, will establish replicated field trials and grower demonstration plots to determine the impacts of organic amendment-based treatments, such as anaerobic soil disinfestation (ASD), for control of root-knot nematodes. 
Center for Agroecology/UCSC participants: Joji Muramoto
Funding: US Department of Agriculture
---
Autonomous electric tractors for farming
Professor of Electrical and Computer Engineering Dejan Milutinovic will lead a project to develop technology for fully autonomous farming using small tractors powered by solar or wind energy. The team will focus on three areas: the tractors' ability to visually perceive its surroundings, tractor navigation along rows of plants, and incorporation of underrepresented farmers and farm communities in development of this technology. Stacy Philpott, professor of environmental studies and faculty director for the UCSC Center for Agroeocology will be the co-principal investigator on the project. 
Center for Agroecology/UCSC participants: Dejan Milutinovic (Baskin Engineering), Stacy Philpott, Darryl Wong
Funding: The Center for Information Technology Research in the Interest of Society (CITRIS) and the Banatao Institute at UC Santa Cruz
---
No-Till Agriculture in Organic Specialty Crops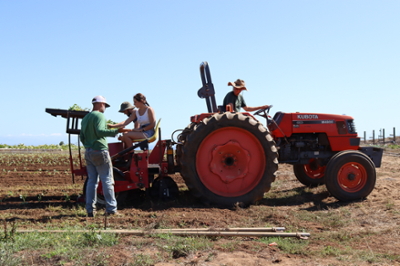 Center for Agroecology Executive Director Darryl Wong is examining the impact of no-till agriculture on crop productivity, carbon sequestration, and farm revenues. Given that 53% of the nation's organic fresh fruits and vegetables are grown in California, moving towards sustainable no-till practices here could have a significant national impact on agriculture and food production, while reducing agriculture's negative contributions to climate change (Klonsky, 2010).
Phase 1 of the project entails a thorough analysis of no-till experiments in organic specialty crops on commercial farms around the country and a review of relevant literature on no-till projects in specialty crops. Phase 2 of the study will compare the effects of three treatments in a replicated field trial on a quarter-acre plot at the UCSC Farm: no-till, reduced tillage, and the standard Center for Agroecology tillage practices, using mustard as a winter cover crop prior to a romaine crop, and buckwheat as a summer cover prior to a broccoli crop.
Center for Agroecology/UCSC participants: Darryl Wong 
Funding: Ida and Robert Gordon Family Foundation
---
Ecological Aquaculture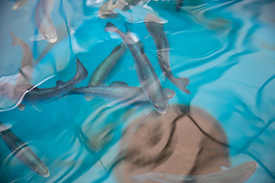 Dr. Anne Kapuscinski, professor of Environmental Studies at UC Santa Cruz and director of UCSC's Coastal Science and Policy Program, and Dr. Pallab Sarker, associate research professor of Environmental Studies at UC Santa Cruz, are researching how to raise food fish using sustainable aquaculture-agriculture practices. 
At their research facility on the UCSC Farm, the team is focusing on shifting the feed used in aquaculture from fishmeal and fish oil extracted from wild fish populations to a sustainably produced, microalgae-based feed free of fish products, as well as reducing the phosphorous load in water compared to conventional aquacultural practices. Dr. Kapuscinski and her colleagues will also explore the potential of raising native freshwater fish, such as rainbowtrout and Sacramento perch. The results of this research could potentially open new business opportunities in coastal communities based on sustainable aquacultural practices and conserve biodiversity in those regions. The researchers will also integrate aquaculture with agriculture at the UCSC Farm by examining ways that nutrient-rich water periodically flushed from the recirculating fish tanks can be used on crops in order to "close the loop" of nutrient use, reduce waste, and conserve energy. Learn more about this research at https://kapsar.sites.ucsc.edu/.
UCSC Participants: Anne Kapuscinski, Pallab Sarker, Devin Fitzgerald
---
Insect Diversity and Ecosystem Services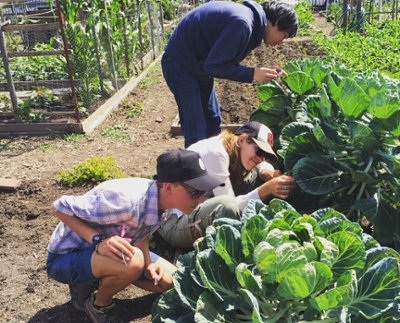 Stacy Philpott, faculty director and professor of Environmental Studies at UCSC, and an interdisciplinary research team have been funded by two USDA-NIFA grants to study impacts of local and landscape management on insect diversity and traits, plant-pollinator and herbivore-natural enemy networks, and ecosystem services in urban agroecosystems on California's central coast. The goal of this research is to build a scientific understanding of urban garden ecology, to disseminate management information to urban gardeners, and to improve urban agricultural sustainability for people and the environment. You can read much more about the specific studies, results and management recommendations at urbangardenecology.com/.
Center for Agroecology/UCSC Participants: Stacy Philpott, Peter Bichier, Azucena Lucatero, Edith Gonzales
Collaborators: Shalene Jha (U Texas), Heidi Liere (Seattle U), Brenda Lin (CSIRO-Australia)
Funding: U.S. Department of Agriculture.
---
Anaerobic Soil Disinfestation (ASD) to Control Soilborne Diseases in Strawberries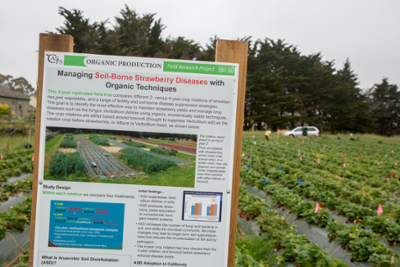 ASD controls soilborne pathogens by creating a fermentation process in anaerobic soil. Several studies funded by grants from the US Department of Agriculture (USDA) and the California Strawberry Commission have allowed the Center for Agroecology to study ASD and optimize the technique for California strawberries.
Additional funds have expanded this initial work to examine the use of cover crops and crop residues as a partial carbon source to reduce the costs and external inputs, and develop thresholds to suppress major lethal soilborne pathogens in strawberries including Verticillium dahliae, Macrophomina phaseolina, and Fusarium oxysporum f. sp. fragariae by ASD. A 2017 grant of $2.5 million from the USDA is expanding this effort to locations in Florida, North Carolina, and Tennessee to help fine tune ASD and integrate the ASD with crop rotation and use of resistant cultivars as a non-fumigant soilborne disease management strategy in different climate zones and crops. Researchers are currently examining suppressive crop rotation using alliums and Summit 515 wheat with and without ASD. Find more information about this research at the Shennan Lab Group website.
Center for Agroecology/UCSC participants: Joji Muramato, Carol Shennan, Darryl Wong, Margherita Zavatta, Jan Perez. 
Collaborators: Peter Henry (USDA), Rachael Goodhue (UCD), Mark Bolda (UCCE), Oleg Daugovish (UCCE), Chris Greer (UCCE), ALBA, Driscoll's, Naturipe, the Oppenheimer Group. 
Funding: U.S. Department of Agriculture.
---
Reducing Nitrate Leaching in Rainy Winters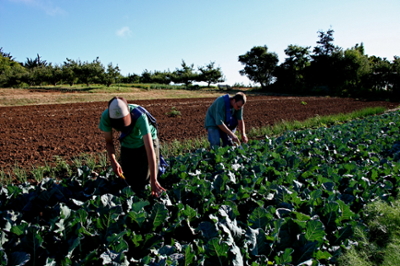 With a grant from California Department of Food and Agriculture (CDFA) Specialty Crop Block Grant Program, Joji Muramoto and Carol Shennan (UCSC ENVS) worked with UC Cooperative Extension farm advisors to examine the effect of high carbon organic amendment on reducing nitrate leaching in rainy winters from fields where nitrogen-rich cole crop residues were incorporated. The initial results were encouraging and trials will continue with a grant from the CDFA Fertilizer Research and Education Program.
Center for Agroecology/UCSC Participants: Joji Muramoto, Carol Shennan 
Collaborators: Richard Smith and Laura Tourte (UCCE)
Funding: CA Department of Food and Agriculture