UCSC Farm and Alan Chadwick Garden
On the UC Santa Cruz campus, the Center for Agroecology manages the UCSC Farm and the Alan Chadwick Garden, both internationally known sites for training and research in organic horticulture and agriculture. These facilities are organically certified in accordance with the California Organic Foods Act of 1990. Students, faculty, and researchers use both the Farm and Garden as research and teaching sites. Both the Chadwick Garden are open to the public daily from 8 am to 6 pm, with a self-guided tour brochure available at the Farm entrances. You can also download a pdf version of the tour brochure here.
Alan Chadwick Garden
Since the Garden's establishment in 1967, apprentices, staff, and students have transformed it from marginal land into a productive model of small-scale agriculture and horticulture. They rely primarily on Garden founder Alan Chadwick's "French-intensive/biodynamic" method, based on close spacing of plants in raised beds, maximum soil aeration and drainage, and careful use of organic fertilizers.
Today the 3-acre Chadwick Garden exhibits a diverse collection, including ornamentals, annual and perennial food crops, an extensive planting of fruit trees (including more than 120 apple varieties), and native California species.
UCSC Farm
Founded in 1971, the 30-acre Farm includes handworked gardens of annual and perennial food and ornamental crops, mechanically cultivated row crops, orchards, and research plots. The Center's offices, the agroecology laboratory, greenhouses and hoophouses, and an ecological aquaculture greenhouse are among the facilities located at the Farm. The Cowell Ranch Hay Barn, located at the edge of the Farm, provides office space for Center for Agroecology staff and a reception area with interpretive displays and free educational materials, and also serves as a campus and public meeting and event space.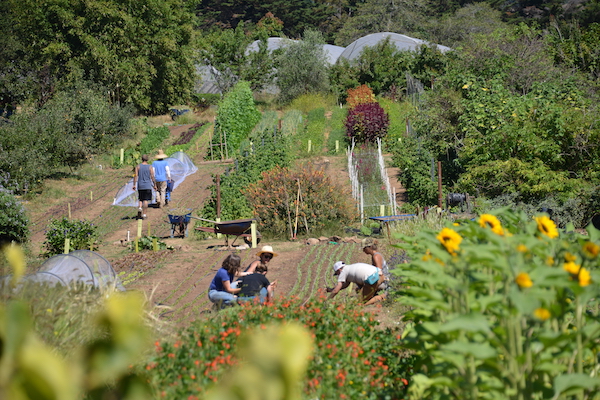 Also on the Farm are the offices of Life Lab, a non-profit organization that develops garden-based science and nutrition curricula and educational programming for students from pre-K through high school. Life Lab manages the Garden Classroom at the Farm, which serves as a model school garden and training site for students and teachers, and hosts field trips and programs for students year round. 
The youth empowerment and food justice program "Food, What?!" also has its headquarters at the UCSC Farm. FoodWhat uses food, through sustainable agriculture and health, as the vehicle for growing strong, healthy, and resilient teens. The program partners with low-income and struggling youth to grow, cook, eat, and distribute healthy, sustainably raised food and address food justice issues in our community.