The Apprenticeship Program
Purpose and Vision
The UC Santa Cruz Center for Agroecology Apprenticeship Program offers seasoned beginners practical skills in gardening and small-scale farming. Apprentices are immersed for 10 weeks in experiential study of soil health and cultivation, plant physiology, and crop production and distribution, while considering the social/political context in which food is grown. The Apprenticeship experience is informed by agroecological principles and practices.
This program is an immersive experience where learning takes place in the gardens and field, the classroom and through living in community on the land. In addition to direct, daily instruction from staff, the Apprenticeship creates space and context for peer-to-peer learning and exchange with mentors, instructors, and facilitators. 
We teach the practices of building soils and growing healthy crops while exploring the need for transformational change to produce more ecologically sound, economically sustainable, and socially just food systems. Our farm and garden staff encourage collective knowledge building, strong interrelationships, and interdependence. 
Graduates emerge from the Apprenticeship on the road to sustaining themselves and their communities with the knowledge they've gained and shared in our program. Alumni pursue various careers, including starting their own farms or market gardens, establishing farming education programs, and working in national and international programs to support organic farming.
What will you do as an apprentice?
Engage in hands-on, applied activities, growing crops from seed to seed

Experience Apprentice-style learning with side-by-side mentorship in our UCSC Farm and Garden at three different scales 

Receive real time feedback through skills-based assessments and activity 

Participate in critical inquiry-based discussion and reflections

Learn from experienced farmers, community organizers, advocates, and other guest speakers and practitioners

Engage in peer-to-peer knowledge sharing opportunities, collaborative work, and project-based learning opportunities to deepen learning 

Immerse yourself in the daily cycles and rhythms of working with the land
The land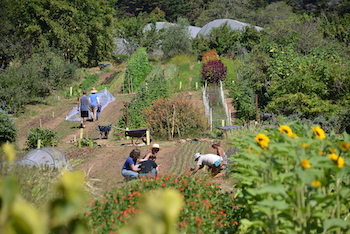 Apprentices learn and work at three UC Santa Cruz Center for Agroecology sites: the Farm Garden, Chadwick Garden, and Field. This gives apprentices a unique opportunity to practice applying agroecological principles and philosophies at sites with varied soil characteristics and scales. Through tending flowers and vegetables in the Farm Garden that are bound for the direct-market stand, cultivating the rich biodiversity of the Chadwick Garden's raised beds and fruit trees, and  harvesting crops in the tractor-cultivated Field, apprentices emerge with the ability to adapt what they've learned to successfully farm in a range of different contexts.