Three UC Santa Cruz graduate students will team with UCSC faculty and staff to address student food insecurity and inequity, and help students cultivate a sense of community while gaining hands-on agroecology skills as part of the UC Global Food Initiative's fellowship program. The students received $4,000 UC Global Food Initiative (GFI) Fellowships for the 2019-2020 academic year to support their work.
Graduate students Chris Lang, Azucena Lucatero, and Erica Zurawski are part of a cohort of GFI Fellows from throughout the UC system working to improve food access and food system sustainability, both at the campus level and beyond.
"The GFI Fellowship invites our student leaders to connect to a larger network of undergraduate and graduate students exploring the intersections of food, equity, the environment, and society. We're fortunate to have three dynamic students contributing to scholarship and informing action for a more just and sustainable food system," noted UCSC Fellowship coordinator, Tim Galarneau, specialist with the Center for Agroecology & Sustainable Food Systems (CASFS).  
Meet the three UCSC GFI Fellowship recipients:
Chris Lang is an environmental studies graduate student whose research focuses on movements and infrastructures that cultivate eco-social vitality in communities of color. Aware of the overlapping, racializing consequences of industrial animal agriculture and petrochemical complexes, Lang advocates for plant-based diets working in tandem with zero waste lifestyles on a collective, organized level. He hopes to examine broader geographies of pollution and health as they relate to differing demographics along supply chains of production, consumption, and deposition.
As a GFI Fellow, Lang plans to leverage his social and ecological skills to help participants imagine and co-create futures that reflect communally accessible, just foodways. "I am here to connect the dots and build beyond the box to facilitate generative conversations, pedagogical breakthroughs, and communal relationships that will improve food health outcomes while simultaneously reducing waste in the world," said Lang.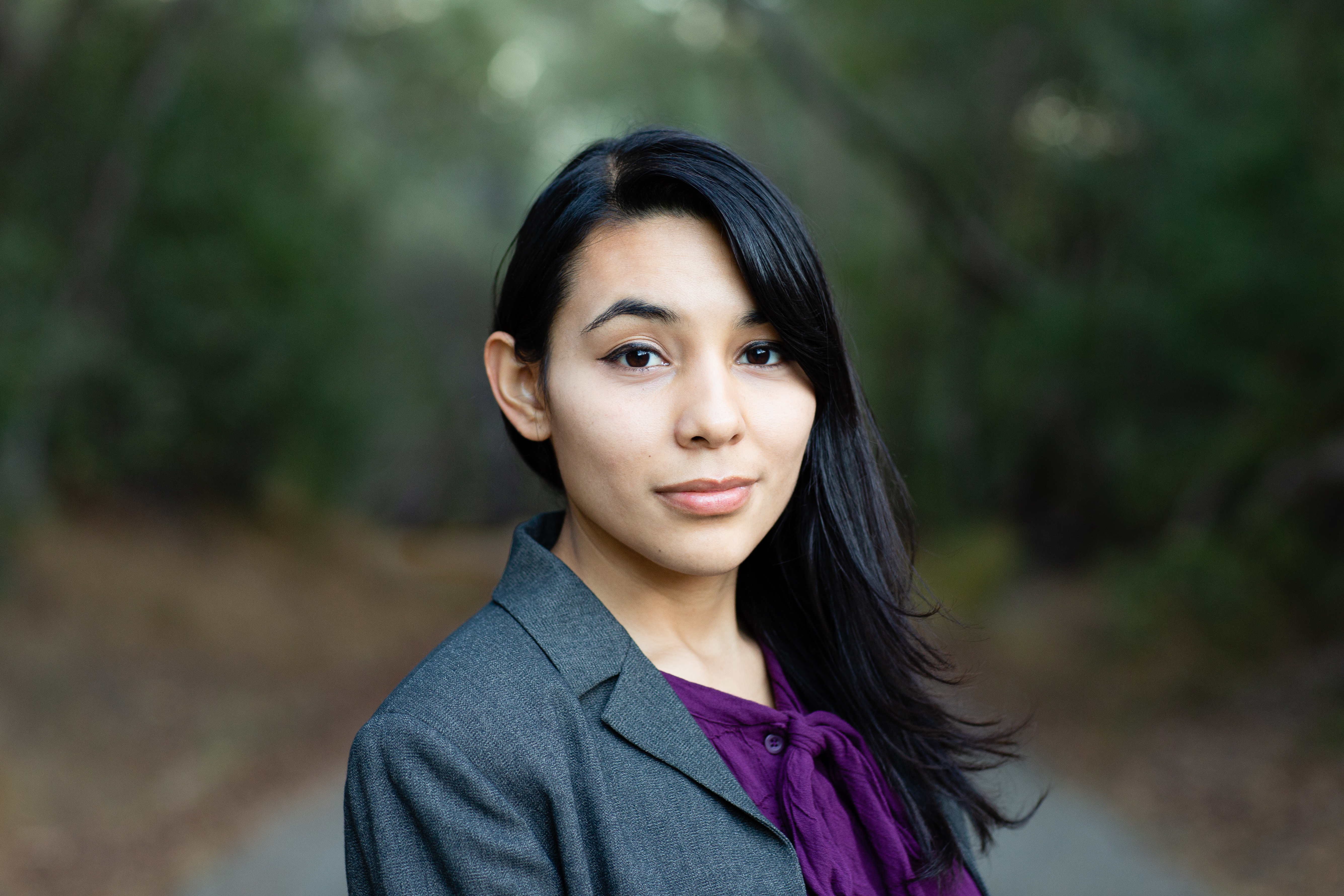 Azucena Lucatero is a third-year environmental studies PhD student interested in exploring urban gardens as ecological and social systems on the California Central Coast. On the ecology side, her research includes the study of insect interactions between crop pests and their natural enemies. On the social side, she is conducting an ethnographic study of students of color involved in student-run campus gardens and the sense of belonging their involvement with the gardens affords them. Lucatero's work demonstrates the wide-ranging contributions of urban community gardens to both people and biodiversity.
She is excited to continue to build connections with other students through work on issues around food and learning on campus as a GFI Fellow. "I'm particularly interested in focusing on the experiences of first-generation students of color and their relationships to food, land, and bodies," Lucatero said.
Erica Zurawski is a sociology PhD student, studying across critical food studies, urban sociology, and critical geography. Her research involves looking at how situated instances of food inequity have been constructed across time and space through ongoing colonial projects, specific to North Denver. She obtained her Juris Doctor at the University of Wisconsin–Madison, with a certificate in International Environmental Law and has also worked for a food justice non-profit in Denver, implementing the SNAP Double Up Food Bucks Program and working as a Market Manager. 
Zurawski would like to make knowledge about food studies programs more accessible and offer stronger support to food insecure students. "By opening up spaces for conversation, building strong mentorship programs, and strengthening interdisciplinary efforts and coalitions, I hope to contribute in valuable ways to ongoing efforts to promote food security and equity," she said.
In addition to their on-campus work, UCSC's GFI Fellows will join other fellowship recipients from across the UC system for a series of activities, including an orientation, leadership training, spring field trip and summer symposium.
Learn more about the UC Global Food Initiative work at UC Santa Cruz and throughout the UC system.