When Vice Chancellor Jean Marie Scott received word that UC Santa Cruz could begin to vaccinate staff members in accordance with the state's vaccination requirements, a plan had to be implemented and an appropriate space identified as quickly as possible. The space would require an open floor plan and good airflow, would need to accommodate many people moving through quickly and safely, and allow for easy access, with ample parking and a socially-distanced waiting area. 
Scott reached out to Stacy Philpott, director of the UCSC Center for Agroecology & Sustainable Food Systems (CASFS), earlier this year, explaining that a space needed to be located and prepared by early February 2021 for the COVID-19 Vaccination Plan. The Cowell Ranch Hay Barn seemed like the perfect place due to its size and floor plan, large, operable doors, windows, and skylights that ensure adequate airflow, and large parking lot to provide space for parking as well as a waiting area. 
The historic Cowell Ranch Hay Barn, originally built in the late 1800s, was dismantled and rebuilt in 2015 to provide office and classroom space for CASFS and to serve as a place for the wider campus and local communities to hold events, classes, and other programming. Since March 2020 when the state's first stay-at-home order was issued in response to the pandemic, the Hay Barn has been vacant to ensure the safety of staff and the community. Philpott and CASFS staff were eager to see the Hay Barn continue to serve as a community space, albeit in a different capacity than originally intended.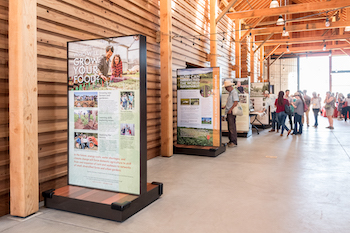 The UC Health Center has transformed the Hay Barn into a vaccination center by reorienting the exhibit displays, which served to educate and inform Hay Barn visitors about agroecology and sustainable food systems pre-pandemic, to create four private vaccination stations, all equipped with personal protective equipment (PPE) and disinfectants to ensure each guest is hosted in a sanitized environment. So far, 800 staff members have received their first vaccine.
"We at CASFS are so grateful that we can provide this location to the campus now, and that we can serve the campus community in a different capacity," said Philpott. "If you're afraid of needles, feel free to look at the smiling faces of students harvesting flowers on the exhibit displays to distract yourself."
The Hay Barn will serve as a COVID-19 vaccine center for UCSC staff for as long as needed, depending on what changes to protocol occur at the state and local level. As more of the campus and broader community receive vaccines, CASFS staff looks forward to the day when the Hay Barn can safely be reopened to the public to resume serving as a community event space and place of celebration.