When the UCSC Center for Agroecology & Sustainable Food Systems (CASFS) closed its gates in March 2020 to keep the community safe from the spread of COVID-19, staff had to get creative to offer new ways to keep teaching without holding in-person classes, internships, or public workshops. Through a remote internship, online public workshops, and the creation of instructional videos, CASFS has worked to make online food systems education accessible to multiple learning groups.
The CASFS Remote Internship: Fostering connection in a remote setting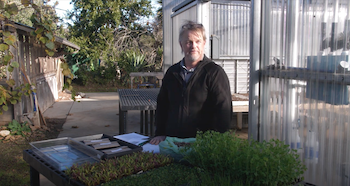 Throughout the pandemic, staff from across the Center's sites have collaborated to offer an online two-unit internship for UCSC undergraduate students. Through pre-recorded instructional videos produced by student videographers, live Zoom lectures, and weekly homeroom discussion sections, the internship offers students a remote way to get involved with the campus food system through topics including principles and practices of greenhouse propagation, winter hoop house production, perennial fruit crop care, intensive gardening, cooking with the seasons, and more.
Although students couldn't visit the Farm and Garden in person this academic year, the remote interns are able to access and connect with the Center's diverse sites in a completely new way. "One really beautiful thing that came out of this is we've stumbled, by necessity, onto something that's unique and feels new in that we're allowing students to access multiple layers of the food system," said Clare Riesman, assistant manager of the Chadwick Garden.
The internship includes a "grow-at-home" component—students are supplied with materials and guidance for growing their own microgreens and seedlings from the campus farm—that allows the interns to get their hands in the soil and practice what they learn.
By including lessons on topics like food sourcing and preparation, offered by Cowell Coffee Shop Food Supervisor Brooks Schmitt, in addition to farming and gardening topics, the remote internship offers an avenue for students to feel more connected to the curriculum and the food system. "A lot of students find things we traditionally teach, like fruit tree care, totally foreign," explained Riesman. "But by bringing in food sourcing as well as topics like food sovereignty, we can make the lessons more relevant and accessible to those students."
To learn more, watch this video introduction to the CASFS remote internship, produced by CASFS alumnus and volunteer David Robles.
Pivoting to Online Events and Workshops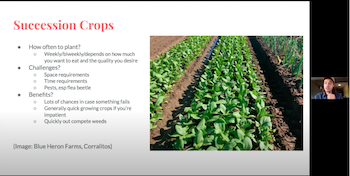 In addition to the remote internship, CASFS and the Friends of the UCSC Farm & Garden have also offered many free public workshops and lectures online via Zoom webinars, drawing as many as 900 registrants who otherwise may not have been able to access CASFS educational content through onsite workshops.
Earlier this year the Center also offered the first of its new "Intensives," short, in-depth courses on various aspects of the food system that will eventually be held at the campus farm and Chadwick Garden. The first session on organic seedling production included pre-recorded video content and an online lecture and question and answer session.
Looking Ahead
As the campus prepares for the hopeful return of some in-person learning this fall, CASFS staff is excited at the prospect of opening its gates to students and the community once again. But even after reopening, CASFS will continue to create and utilize video and online instruction to make educational materials more accessible to a wider audience.
"There is tremendous interest in CASFS continuing to offer an experience similar to the remote internship that takes students to all the different sites and operations to connect to all aspects of the food system," said Margaret Bishop, CASFS basic needs coordinator. Feedback from online public workshop attendees has also been positive, and there are plans to explore continuing Zoom workshops as a permanent CASFS offering.
With the help of a professional videographer, CASFS will create a series of how-to videos that will document techniques including planting and pruning fruit trees, sowing seeds and transplanting seedlings, irrigation setup, tillage equipment use, and much more. The CASFS "Video Project" will provide a lasting teaching toolkit for instruction through undergraduate classes and internships, the Apprenticeship Program, workshops, short courses, and visitor education during site visits.